I'm a firm believer i

n the notion that a person can
learn
t
o love anything. Food, activities, family. We grow up with it, we get used to it and eventually, we love it. Music is no different. It's no coincidence that people in the south love country music and it's not additives in the water that gives us all a soft spot for our parent's music. We listen to what we like, but we like what you listen to. I'm confident that if you were hear enough of that one genre you never seemed to get into, you'll find something to love about it. But we rarely tolerate music that's different long enough to figure out why other people like it so much.
There's one that you hear all the time:
"What kind of music do you listen to?"
"Oh, I listen to pretty much everything, except country."
I was one of 'em. The stuff just turned me off. The sound, the vocals, the lyrics - I wanted nothing to do with it. But hey, I felt the same way about pop.
Really, though, that's fine. It's not like those who prefer stay within a couple genres run out of music to listen to. They're happy. I was happy when all I listened to was rock, or as Dad called it, "bang-your-head-on-the-wall music." It took a
rock band covering a pop song
to open my eyes to pop. Did I do myself a favor by exploring other genres, like country? ...Meh, I don't think it really makes a difference. It sure is fun! But I was never discontent with my music collection. I never felt like anything was missing.
My relationship with country music started with one bluegrass band's amazing vocalist. It was her voice that made me want to listen, but I later found myself enjoying the sounds of instruments I couldn't even name. I was warming up to the very things I once saw no value in. And it continued.
It only takes a little something to get you listening. And when that something hooks you in, you
actually listen
. I had inadvertently given the music a chance to grow on me.
While I was at work, yesterday, I thought about how I got into this whole country music thing, what lead to what and how quickly it all happened. I decided I should share. So here are my country music albums, and how I discovered them all!

Alison Krauss & Union Station
Now, I understand that this is a bluegrass group, but I just can't exclude them. They were my gateway to all of this music. They opened my ears to every other artist on this list.
I first heard Alison Kauss & Union Station on
AmazonMP3.com
. They used to (and may still) give away free MP3s from time to time. I had download the songs "Heartstrings" and "Every Time You Say Goodbye." I liked them. I remember soon after that, I saw a greatest hits CD in a Cracker Barrel restaurant. But I don't like really
do
greatest hits CDs. I think it's a little to Frankenstein-ish to pull albums apart and piece them together like that. I'll write about my reverence for albums, some other time.
I eventually forgot about the band and the songs on my computer. Months, maybe even a year later, I came across the tracks again in my music library and fell in love with them. Turns out, both tracks were the same album, "Every Time You Say Goodbye."
They've become one of my favorite groups and while I've yet to delve into the solo albums the band members have released, I have every intention to.
"
Every Time You Say Goodbye
" - 1992 (purchased at Best Buy in July, 2008)
"
New Favorite
" - 2001 (purchased at FYE in September, 2008)
"
Lonely Runs Both Ways
" - 2004 (gift from Mom on Christmas 2008)
This was a Pandora Radio find. "The Healing Kind" came up on my newly created country and bluegrass station. I listened to the samples for the other tracks on the album, "I Hope You Dance" and put it on my to-buy list.
To be honest, the album dried up on me pretty quickly and I hardly listen to it, anymore. That's why I don't have too much to say about Womack.
"
I Hope You Dance
" - 2000 (purchased at Best Buy in December, 2008)
Emmylou Harris
Emmylou Harris was an interesting find. While in Best Buy, I decided to purchase the aforementioned Lee Ann Womack album. But while still in the country section, I saw this on the shelf: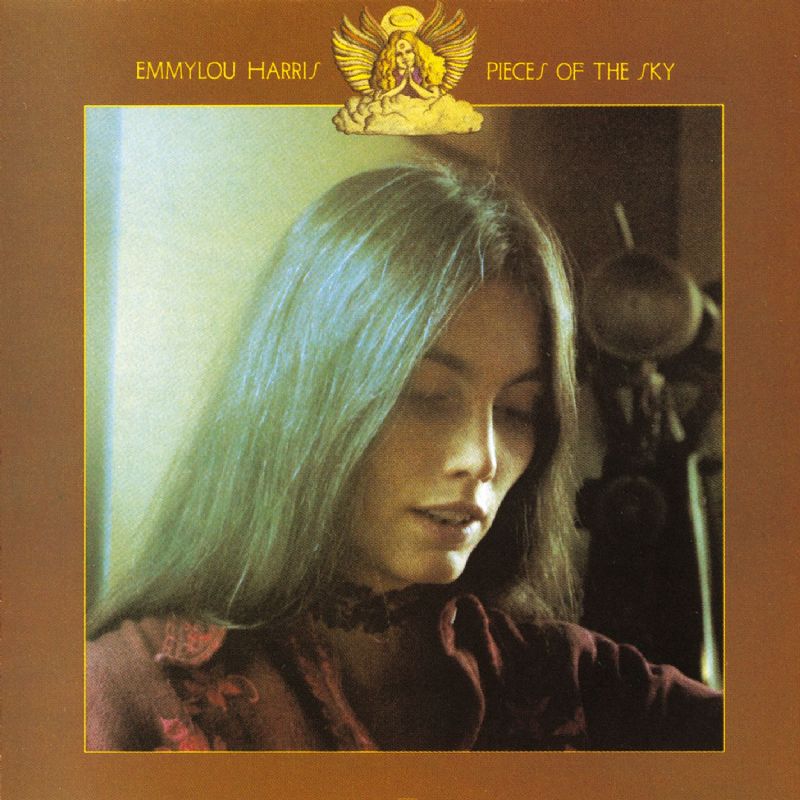 I wish I could find a higher resolution shot of the back cover, because that's what really won me over. I knew nothing of the singer but after staring at this album for a good two or three minutes, I decided that I had to have it. Yes, I sometimes roll the dice and buy an album solely on the artwork. It's exciting. You should try it.
As it turns out, I loved it! It put "I Hope You Dance" on the back burner for days. And coincidentally, the album I picked up was her debut. According to Wikipedia, she disowned her true first album. I decided that I might as well buy her albums in order, and I
did
- for the next two... That's when I realized that Emmylou Harris was the Stevie Wonder of country music. And by that, I mean she's been recorded for decades, hasn't stopped, and has put out way more albums than I would ever collect.
"
Pieces Of The Sky
" [Expanded & Remastered] - 1975 (purchased at Best Buy, same day as "I Hope You Dance")
"
Elite Hotel
" [Expanded & Remastered] - 1975 (purchased at Barnes & Noble in December, 2008)
"
Luxury Liner
" [Expanded & Remastered] - 1976 (purchased at Barnes & Noble, same day as "Elite Hotel")
"
All I Intended To Be
" - 2008 (purchased at Circuit City in February, 2009)
Carrie Underwood
Realizing the music was growing on me, I gave a local country station a spot in my FM presets. Right way, within just a couple days of each other, I heard two songs I loved without hearing who they were by. Soon after, while browsing country music on
Last.fm
, I decided to check out Carrie Underwood. I only recalled having heard "Jesus Take the Wheel," and I knew that was a long time ago. Turns out the two songs I loved so much were not only both by the same artist, but on the same album! The songs were "Last Name" and "All-American Girl."
"
Carnival Ride
" - 2007 (birthday present from
Kyle
in January, 2009)
SugarLand
I'm afraid I don't have a cool story for how I discovered SugarLand. I just heard them at the Grammys. They performed the song, "Stay." And yes, I'm aware that "Stay" isn't on the album I bought, but "Love on the Inside" had great chart performance and I read the duo actually had a lot more creative control. I'll probably work my way back. I don't want to say too much about the album, other than that I like it, because I've only listened to it one time through.
"
Love on the Inside
" [Deluxe Fan Edition] - 2008 (purchased at Wal Mart on February 25, 2009)
Artists of interest, whose albums I don't have
:
Martina McBride
Dolly Parton
Jason Aldean
The Peasall Sisters
Ricky Skaggs
While country and bluegrass are becoming an increasingly significant part of my music collection, I'm still very much new to the country universe. If you have any suggestions, I'd love to hear them!